It's been a while since I last wrote. 2 months and 2 weeks, to be exact. And my life has not been devoid of knitting nor crafty stuff….no, not at all! There has been a lot of travel, and not a ton of knitting…..but there has been some.
The first adventure I had after the last post was completely unexpected. I was at a conference in St. Paul, Minnesota, and I was reading a blog post by Stephanie Pearl McPhee where she mentioned flying from California to Minnesota. At first I thought "how cool, soon I'll be flying from St. Paul to California!" and then I wondered, "will we overlap in the Twin Cities?" (If you don't know, those cities border each other.)
The answer, my friends, is yes, and this happened at Steven Be:

Steven was absolutely fabulous and was in full force that day. The yarn shop has yarn and knitted things everywhere. I loved it from a chaotic good perspective. I bought some sock yarn and some sock needles, and immediately started in on a sock. And I had Stephanie sign some books, of course.
The next adventure I had was when I found the Mass Ave Knit Shop in Indianapolis. It was about half a mile from the hotel I was staying at, and I spent several hours there on a Saturday before leaving for the airport. I picked up some plain white yarn (purpose to be revealed later) and knit for several hours….though at this point I cannot remember what I was knitting! For arguments' sake, let's say I was knitting a pattern from Jeri, a fellow Common Cod Fiber Guild member, which she showed at Show and Tell during our September meeting. The pattern is called "Vestboro", and this is how far I got as of mid-October, so it's a pretty good bet to say that's what I was working on: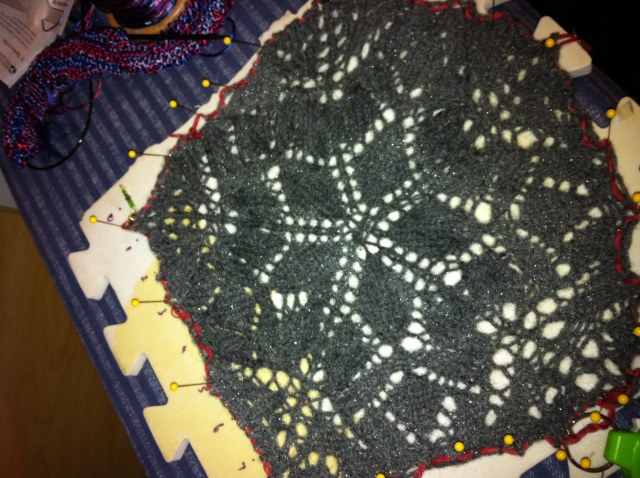 The knit shop was large, and had tons of yarn! Due to all my travel this year, I have not been knitting and spinning as much as I used to. Last November I stopped being able to keep up with my monthly fiber club, and I stayed behind all year. Suffice it to say, I am overflowing with yarn and fiber….and so is my fiber room. So I am limiting my souvenir yarn…for now.
The knit shop was full of women knitting, and wonderful local donuts, and instead of souvenir yarn I bought myself an accordion-type box to store my dpns in by size. It was a great place to spend several hours knitting.
I attended Rhinebeck aka NY Sheep & Wool, where I acquired a Bernina 1230 sewing machine, circa 1989–1998. I haven't yet started playing with it, as I have been WAY too busy with other things – Halloween crafts, holiday gift knitting, and test knitting! At Rhinebeck I took 2 classes – a spinning class with Abby Franquemont (I can cross that off the bucket list now!) and a dyeing class with Gail Callahan, the Kangaroo Dyer, in which I learned a ton about dyeing and made this beautiful rainbow:
I did not knit for much of September and October because I was doing other crafty things – specifically, I was hand-sewing my Halloween costume – Sally from the Nightmare Before Christmas. It came out better than I expected, which was great, because it was for an awesome wedding:
And yes, I also knit the wig.
In November I was test knitting. And test knitting. And test knitting. I will show you pictures once they are public, but for now, things remain secret.
I took a mitten class at Mind's Eye Yarns and still have not finished knitting the first mitten, much less the second mitten. But I learned a few good tips along the way and am excited to use them.
Remember that white yarn I bought in Indianapolis? It was for some classes with Lucy Neatby, who is chock-full of amazing tips and tricks for knitting. I filled out a wishlist with stuff I want, from patterns to DVDs. Lucy is fun, smart and easy to learn from. I took three classes with her – buttonholes, finishing, and socks. Her handouts are invaluable. I took time off work and spent a pretty penny to learn from Lucy, and I would do it again in a heartbeat. She's THAT good.
And then it was December…..the test knitting was finally finished, and then it was time to knit gifts! I knit hats for my brother-in-law and his wife (in grey and red Ushya yarn), and I did not, sadly, take any pictures of those hats. I also knit a hat for my mother-in-law in green, and again, no pictures. I do have pictures of the tiny slightly felted purse I made for my aunt-in-law (using handspun Portuguese Merino in the "A Bug's Life" colorway) and the DNA scarf I made for my father-in-law out of Kauni (that I bought while in Halifax on my knitting cruise in July):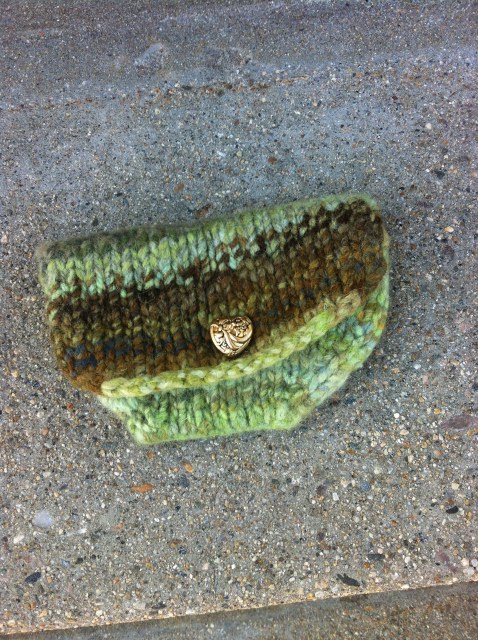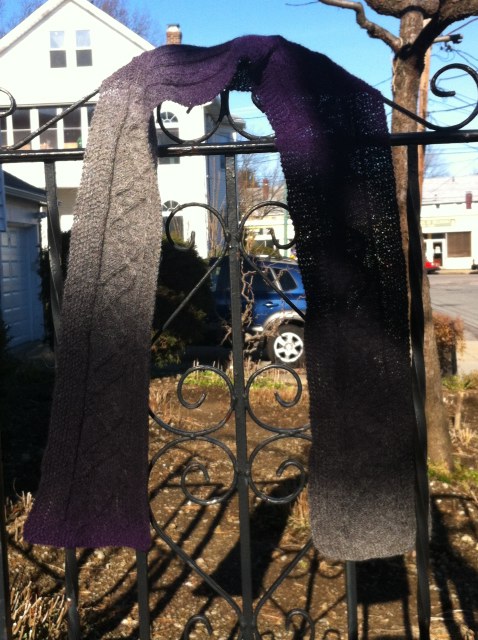 And then during and after Christmas I knit 2 chemo caps for a cousin-in-law – one was brown and one was black with sequins (so she'd have "evening hair") – here's a pic of me modeling the brown one: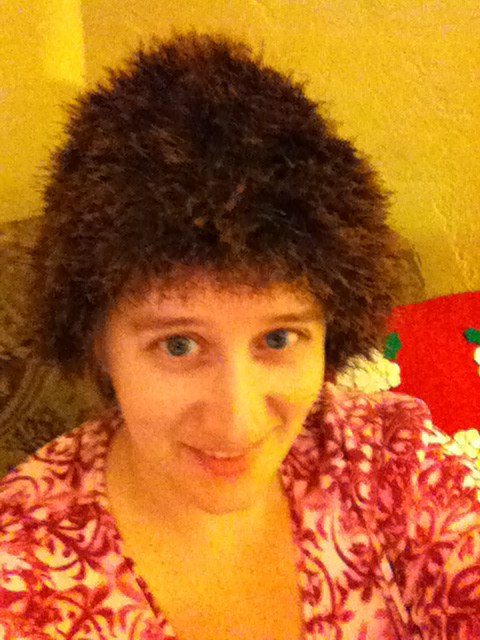 So with all that done, I have started spinning again….although I find I cannot spin for hours like I used to. I'll have to work up to that again. In the meantime, I've been spinning an hour or two at a time in the evenings, and yesterday I took a break to knit myself the Mind's Eye Yarns free Waffle Stitch Hat pattern, so I could finally have a hat for myself:
It was super-quick to knit, and I love it!